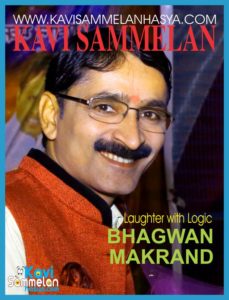 Name : Bhagwan Makrand
Birth : 5 July, 1971; Kaman, Bharatpur
Education : M.A. (English-Hindi) Ph.D.
Awards :
1) State level Teacher Award (Highest honour of teachers in Rajasthan)
2) Brijbhasha Vibhushan Award
3) Sahityanchal Award
4) "Hasya Shri" Award
5) Seth Hazarimal Banthiya Samman
6) Radhelal Sharma Memorial Award
7) Honoured by Dstt Collector, Bharatpur
8) Nagrik Abhinandan
Publication :
1) MAIN KAAMVAN HU (Granth)
2) Makarand Madhuri (Poetry)
3) KAMAVAN KUSUMANJALI
4) Published in various Magazines 
Countries Visited : Dubai (UAE)
About Bhagwan :
Bhagwan Makrand's Forefather Shri Govind Swami was one of the ASHTCHHAP KE KAVI. Bhagwan is one of those classical singers who sings Haveli Sangeet of Dhrupad Gayan Style. In Kavi Sammelans Bhagwan Makrand performs his jolly poems containing satire over society and current incidents. Bhagwan reciting his effective satires from last 25 years. 
Current Location : Bharatpur, Rajasthan