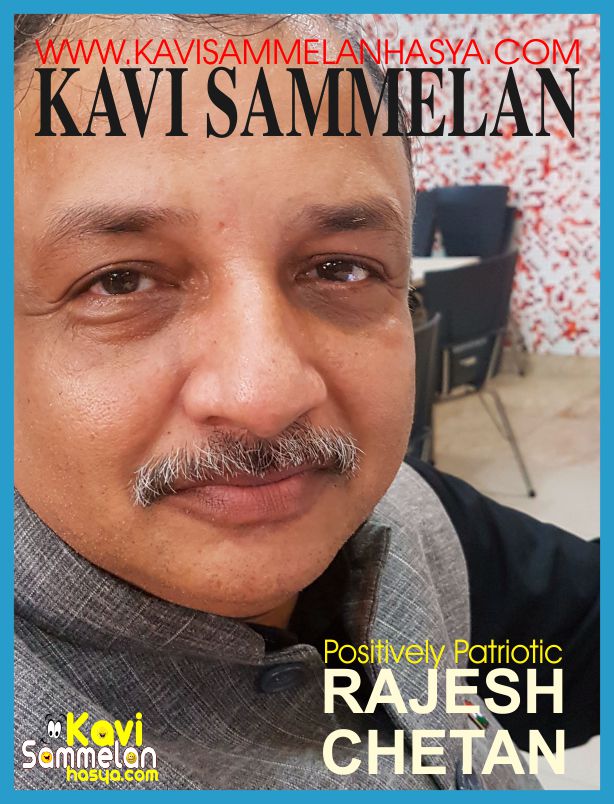 Name : Rajesh Chetan
Birth : 8 August 1966; Bhiwani (Haryana)
Education : Master of Commerce
Occupation : Insurance Consultant
Published work
1) KARGIL KI HUNKAAR (Edited- Poetry Collection)
2) BHAARAT KO BHAARAT RAHNE DO (Poetry Collection)
3) RANG DE BASANTI (Poetry Collection)
4) SETUBANDH (Poetry Collection)
5) SEEDHI SAADI BAATEIN (Interviews)
6) WANVAASI RAM (Audio CD)
7) SHANKHNAAD (Video CD)
8) TIRANGAA (Audio CD)
9) Articles, poems and satires are regularly publishing with various news papers and magazines.
Other achievements
1) Broadcasted with various media i.e. AIR, Doordarshan, SAB TV, Jain TV etc.
2) Recited poem more than 2000 kavi-sammelans all over the country as well as across the boundaries i.e. Britain, France, USA, Oman and Canada.
Awards
1) Satpal Chugh Award by Bhartiya Sahitya Parishad in 2001
2) Awarded by UK Hindi Samiti in 2002
3) Purushottam Prateek Puraskar in 2003
4) Ramai Kaka Award by Sahitya Bharti, Unnav in 2004
5) Ram Kumar Smriti Samman by Sanskar Bharti, Hapur in 2005
6) Vishisht Saraswat Samman by Sanskritik Manch, Bhiwani in 2005
7) Kavya Shri Samman by Rajasthan Sahitya, Kala Evam Sanskriti Sansthan in 2007
8) Kalamdansh Puraskar of Panipat in 2007
9) Acharya Mahapragya Pratibha Samman Ladnun in 2009
10) Vishal Sahay Smriti Samman by Manas Manch Kanpur in 2009
11)  Citizen Award, Rohini in 2011
12) Guru Golvalkar Puraskar By Sanskar Bharti in 2012
About Rajesh Chetan-
Rajesh Chetan is the name of a poet who feels the patriotism with every breath of him. He speaks for the country, he writes for the country as well as he is for the country. He never changes his track of thoughts as he is assuring about the purity and genuineness of his thought process. He scratches the patriotic emotions of audience with his aggressive performance.
Current Location : New Delhi