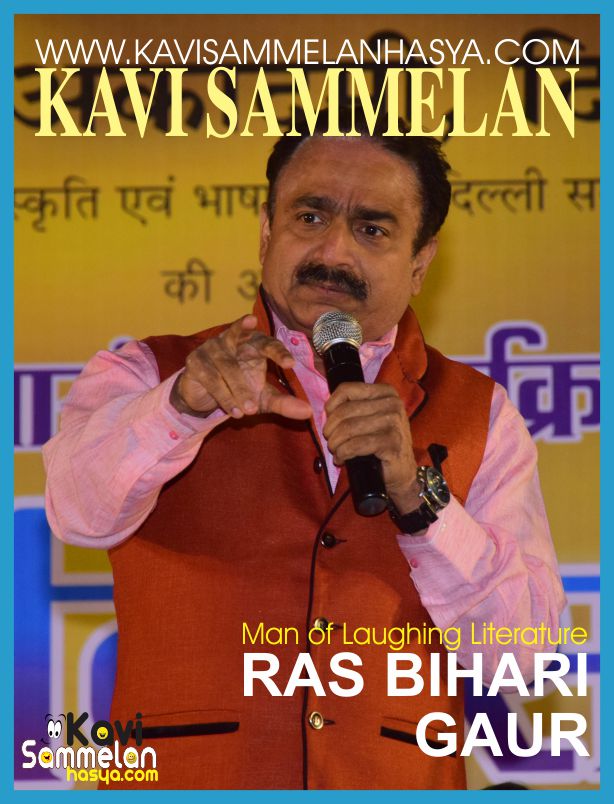 Name : Ras Bihari Gaur
Birth : 20 January; 1964 (Ajmer)
Education : B.Sc.
Publications :
1) Loktantra Ke Naam (Vyangya Sankalan)
2) Just Hasyam (Hasya Kavita)
3) Vaseeyat Hai Kavita (Poetry)
4) Yatha Sambhav (Edited)
Countries Visited : Canada, USA, UAE
About Ras :
Rasbihari Gaur is a finalist of The great Indian laughter challenge.  He recited his poems from all important platforms of the country including Lalkila Kavi Sammelan. He performed on all important channels of silver screen. Rasbihari is founding president of INTERNATIONAL LITERATURE SOCIETY OF INDIA. He organise AJMER LITERATURE FESTIVAL. Just hasyam, Geet-Gulzar are some notable shows of Rasbihari Gaur. Vaichariki & Batras are two popular blogs of Rasbihari. Rasbihari is associate with various NGO's i.e. Lions Club, Kavi Sammelan Samiti, Citizen Council, Sur Singar, Shabd etc.
Current Location : Ajmer, Rajasthan