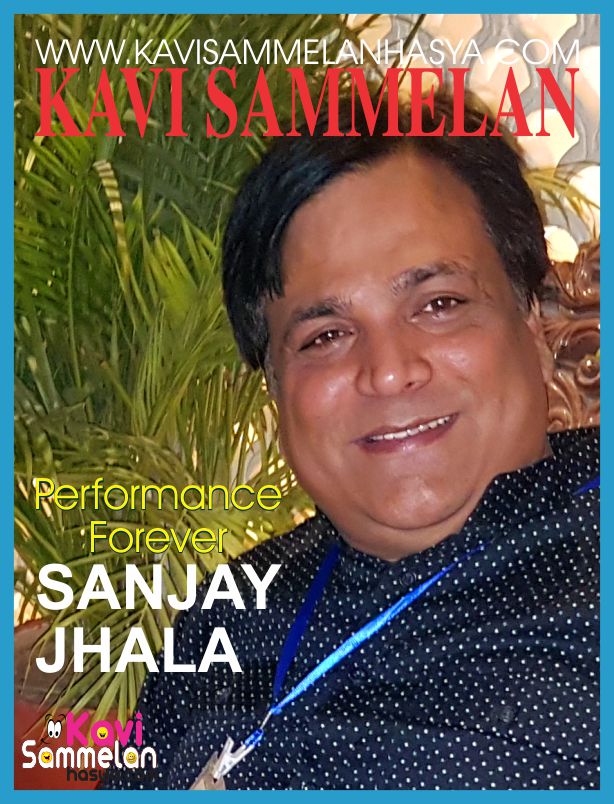 Name : Sanjay Jhala
Birth : 01 May 1972
Education : Post Graduation.
Occupation : Deputy Director of Consumer Affairs, Govt. of Rajasthan, Jaipur.

Published work
1) SOORPNAKHA KI NAAK (Satires)
2) BHRASHT SATYAM JAGAT MITHYA (Satires)
3) TU DAAL-DAAL MAIn PAAT-PAAT (Satires)
4) SUNI-SUNI AAVE HAANSI (Satires)
5) Articles, poems and satires are regularly publishing with various news papers and magazines.
Other achievements
1) Broadcasted with various media i.e. Doordarshan, SAB TV, NDTV, Live India, Dabang etc.
2) Lead role in serial Naya Sawera on Doordarshan.
3) Script & anchoring Ayeji-Oji-Sunoji on ETV.
4) Visited overseas for kavi-sammelans i.e. Muscat, HongKong, Thailand, Indonasia, Malesia, USA, Singapore.
Awards-
1) Awarded by President of India Pratibha Patil.
2) 36th Akhil Bhartiya Tepa Samman.
3) Akhil Bhartiya Rang-Tarang Samman, Madhya Pradesh.
4) Rajasthan Gaurav Samman-2009.
5) Attahaas Yuva Rachnakar Samman 2009 (UP).
6) 40th Akhil Bhartiya Tepa Samman
7) Awarded "Kavita Samman" by SAB TV "Waah-Waah Kya Baat Hai"

About Sanjay-
Sanjay Jhala is the name of intellect satires as well as humor too. He delivers punches in his unique style. He generate laughter through his by birth ability of "Anukriti". Sanjay watches things with a critic eye, he think them with a poetic brain and express his thoughts with a smiling attitude. He is a ring master of languages. He is expert of Sanskrit, English and Hindi language.

Current Location- Jaipur