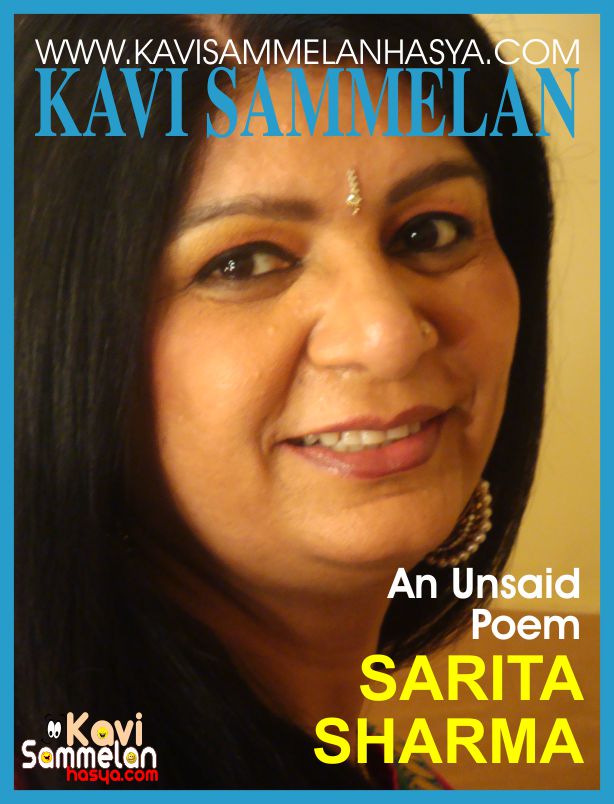 Name : Sarita Sharma
Birth : 29 July; Chhattisgarh
Education : M.A. (Hindi Literature), Ph.D. 
Awards:
1) Yash Bharti Award by Government of Uttar Pradesh
2) Brij Kokila Award, Mathura
3) Mahadevi Verma Puraskar by Mahadevi Verma Nyas, Farrukhabad
4) Suman Samman, Unnao
5) Narmada Samman, Khargaon, Madhya Pradesh
6) Honored by Worlh Health Organization and so many other NGO's for her dedication towards revolution against female foeticide.
Publications :
1) Peer Ke Saaton Samundar (Geet)
2) Nadi Gungunati Rahi (Geet)
3) Teri Meera Zaroor Ho Jaaun (Muktak)
4) Chaand, Muhabbat aur Main (Ghazals)
5) Hue Aakash Tum (Geet)
6) Chaand Sota Raha (Audio CD)
7) Geet Banjaran Ke (Audio CD)
Countries Visited :
England (2005 & 2009); Bahrain,  UAE, Sharjahan, USA, Canada
About Dr. Sarita:
Dr. Sarita Sharma is not only a poetess but she is the signature of an era. Hindi kavi Sammelans are being dignify with her presence from last three decades. She recited her emotions eleven times from Lalquila Kavi Sammelan.  DD National, All India Radio, SAB TV, NDTV, AAJ TAK, ABP News, News Nation, News 24, ETV, Big Magic and so many channels are her broadcasters. Her poems draw a holy image of romanticism.  
Current Location : Ghaziabad (UP)