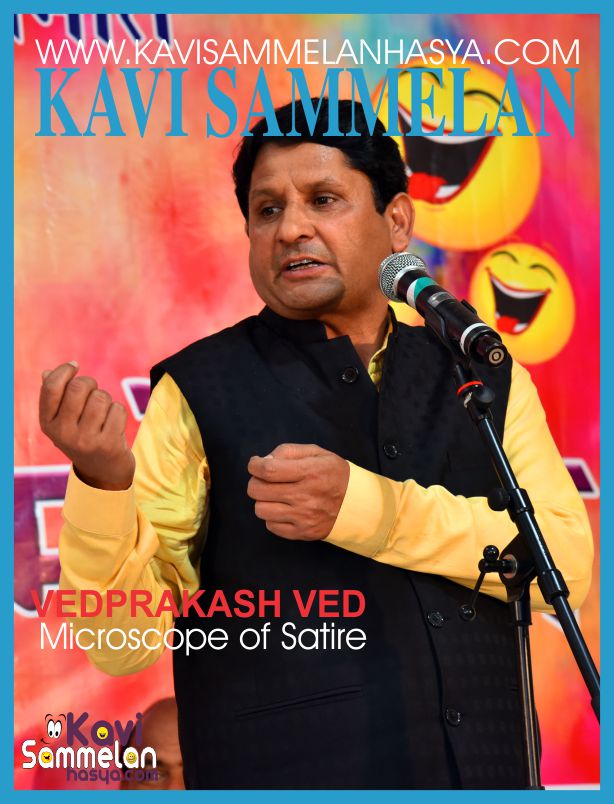 Name : Ved Prakash Ved
Birth : 4 March 1964; New Delhi
Education : Master of Arts (Hindi), B.Ed.
Published work
1) Hans Liya Phans Liya (Poetry)
2) Hansi Khel Nahin (Poetry)
3) Articles, poems and satires are regularly publishing with various news papers and magazines.
Other achievements
1) Broadcasted with various media i.e. Doordarshan, NDTV, SAB TV, Jain TV, Jansandesh, Dabang, Live India and IBN7 etc.
2) Recited poem more then 2500 kavi-sammelans all over the country and abroad.
3) Visited overseas for kavi-sammelans i.e. Oman, Hong Kong, Dubai, Indonesia, Nepal, Thailand etc.
Awards-
1) Kaka Hathrasi Puraskar by Delhi Govt.
2) Kaka Hathrasi puraskar by Kaka Hathrasi Trust.
3) Omprakash Aditya puraskar
4) Attahaas puraskar
5) Awarded by President of India.

About Ved-
Ved Prakash Ved is a name of witty performances in Kavi Sammelans. His topics of poetry are social as well as his style to conclude any topic is humorous. He thinks positive but speaks satiric. One can say – "When he recite poetry his words performs with his body language and his expressions too.

Current Location- Greater NOIDA