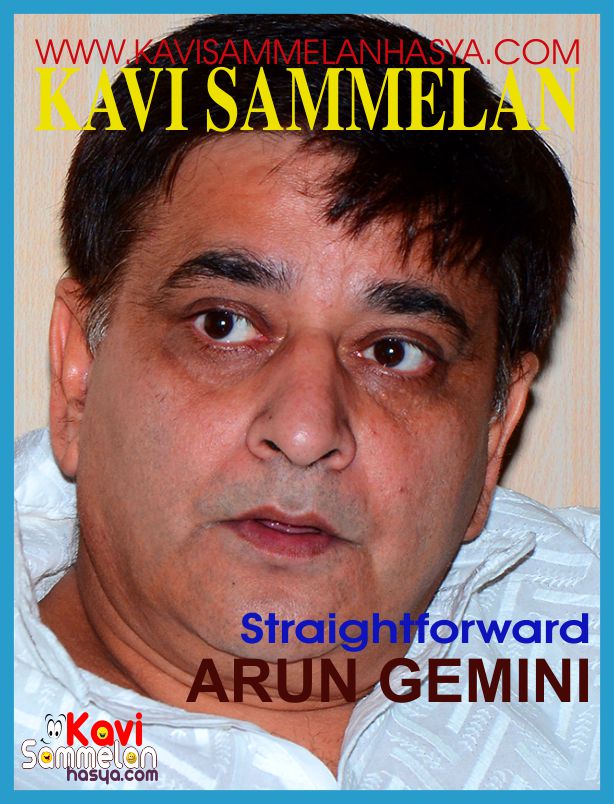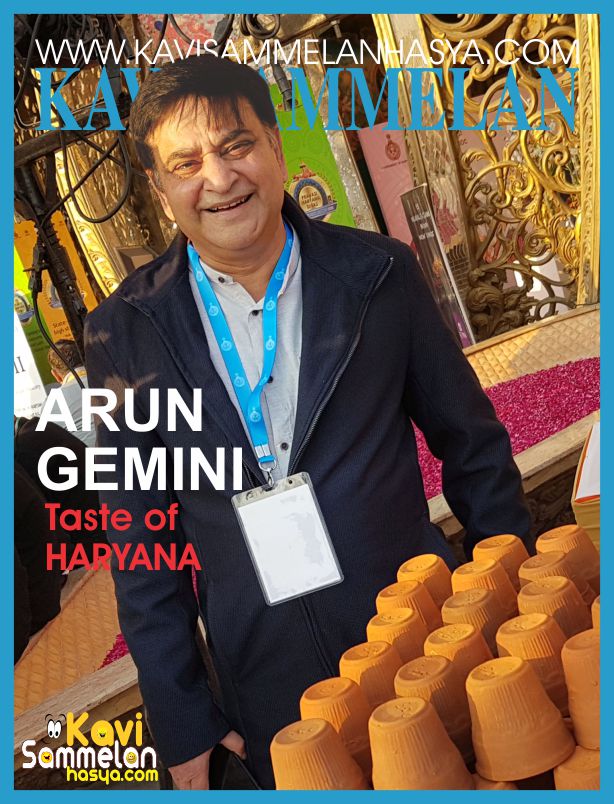 Name : Arun Gemini
Birth : 22 April 1959
Education : M.A. (Hindi)
Published work
1) FILHAAL ITNAA HI  (Poetry)
2) HASYA VYANGYA KI SHIKHAR KAVITAAYEIn (Edited)
3) Articles, poems and satires are regularly publishing with various news papers and magazines.
Other achievements
1) Broadcasted with various media channels i.e. AIR, Doordarshan, NDTV, Aaj Tak, Tez, Delhi Aaj Tak, SAB TV, India TV, Live India, Sony TV, ZEE TV, Jain TV, Jansandesh, Dabang, Dhamaal etc.
2) Recited poem more than 3900 kavi-sammelans all over the world  i.e. USA, Canada, Australia, Singapore, Oman, Indonesia, Malaysia, Thailand, Hong-Kong, China, Nepal, Dubai, Abu-Dhabi and Turkey etc.
Awards-
1) Kaka Hathrasi Hasya Ratna in the year 2000.
2) Kaka Hathrasi of Hindi Sahitya academy by Chief minister of Delhi.
3) Omprakash Aditya Samman
4) Tepa Samman
5) Tarun Shri Samman
6) Awarded by President and Prime minister, Chief ministers.
7) Thahaka Samman
8) Atthaas Samman
9) Muskaan Samman
10) Haryana Gaurav Samman
About Arun Gemini-
Arun Gemini is a well known name of hasya kavita these days. His presence of mind and spontaneous attitude on stage creates liveliness as well as laughter. His one liners and satires attacks on society. One can say that Arun has the capacity to treat the society through his laughter instead of bitter medicines.   
Current Location : New Delhi